"Mom, There's A Vampire On Our Lawn!" A Spooktacular Halloween Read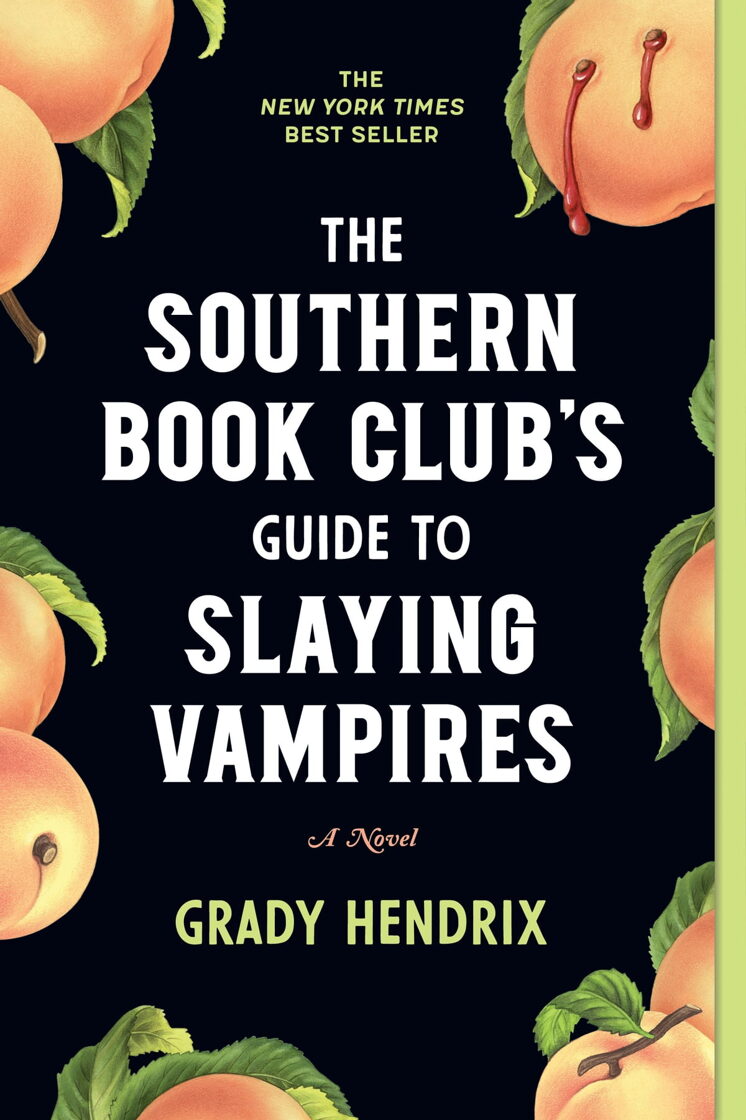 Everybody knows that the month of October is reserved for pumpkin spice lattes, dark academia, and spookiness. From movies to novels, you would be hard-pressed to find anyone that doesn't immediately think of Coraline, Hocus Pocus, or Dracula. Though I'm not a great enthusiast of themed holidays, I was nonetheless consumed with the thought of finding the perfect Halloween read, one that would have me tucking my legs under a blanket, huddling up and, in a stroke of masochism, turning off the bedside lamp.
It's Halloween, after all; it's important to set the mood.
I knew my search was over when I laid eyes on The Southern Book Club's Guide to Slaying Vampires, by Grady Hendrix. Don't let that mouthful of a title fool you. This is not the camp, satiric, supernatural fiction you might be expecting. At least, not entirely.
The premise is misleading enough. Patricia Campbell, a burnt-out housewife whose guilty pleasure is reading true crime novels with other housewives in their "Not-A-Book-Club" book club, starts suspecting her mysterious (and wildly handsome) new neighbour, James Harris, of kidnapping children.
Nancy Drew-levels of shenanigans ensue.
What follows will have you in a constant state of anxiety, fury, and fear. You won't be able to put it down. You make a deal with the book when you sit down to read it and it will demand its pound of flesh. More than once, I felt my eyes wobble like soft-boiled eggs at the sheer power of Hendrix's descriptions, visceral and gory and terrible in the best of ways.
To fully understand the throbbing core of the novel, the reader must first come to terms with the symbolic nature of the vampire. This creature, so often watered down by sparkly retellings and smouldering actors, is restored to its predatory and gothic glory in the body of James Harris. Abhorring the sun whilst thriving at night, only allowed inside by direct invitation, and commanding beasts to do his bidding– he is immortal and he is singular, in a world designed for sameness.
Hendrix brings back the original serial killer to reflect on the hypocrisy of American morality, which only applies to those who are the same. The "other", represented by the low-income black characters living on the outskirts of Charleston, is not extended the same courtesy.
Beloved James Harris, on the other hand, is given the benefit of the doubt and all the leniency the men in this Southern gated community can afford, as he flashes dollar signs as readily as he does his pearly whites, all the while tormenting their wives and preying on their children The role he plays in this suburban farce is of the All-American poster child; white, male, self-assured, entrepreneurial. The American dream materialised.
What a nightmare that turned out to be.
The same can be said for the female experience. Instead of merely scratching the surface of Southern suburbia in the nineties, the book delves into the emotional and physical labour expected of the stay-at-home mom, the rich inner world women create, once married life snuffs out dreams and ambitions. Patricia is saddled with the care of her dementia-ridden mother-in-law, her two children, and aloof husband. Partly, the true horror stems from the suffocating and alienated life she leads, entirely for others, their wants, and their needs.
The other part comes from a swarm of rats biting and scratching a woman to death.
As Patricia is manipulated and gaslit by every man in her life, to the point of an accidental overdose, she must fight tooth and nail to protect her children, her neighbourhood, and her sanity from a threat nobody else thinks exists. Her carefully manicured, white-picket-fence life begins to rot, and it is up to her to either paint it over or excise it.
Beneath the layers of gore and glamour that admittedly drain the upper-middle-class of any authenticity and real feeling, The Southern Book Club's Guide to Slaying Vampires is simply a cautionary tale about a woman who should be seen but not believed. Whose word doesn't hold as much power as a man's. When you let yourself become a trophy, you give the world permission to make you a sacrifice.
There is nothing more terrifying than that.
PS: If you're like me, and you pair books with a cinematic chaser, I'd recommend Fright Night (2011), a horror comedy in which Charley finds out his next-door neighbour is a vampire. It matches the pace and tone of this book remarkably well.
Tamára Pinto
No comments
Leave a reply