Interview with Sophia Hadef, Founder of Dubh Publishing
Sophia Hadef is the founder of Galway-based gothic literature publishing company "Dubh Publishing" and is currently studying an MA in Journalism at NUI Galway. We chat to Sophie (virtually!) about her career path, how to stay creative during the pandemic and her books to watch for 2021!
You can follow Sophia on Instagram (@soelvyra_) on Twitter (@soelvyra) and Dubh Publishing on Twitter (@dubhpublishing)
---
1) Tell me a little bit about yourself.
I'm from Paris and moved to Galway almost two years ago with my daughter. It's the best choice I've made in my life. Ireland is perfect for me as I love its landscapes and its weather. I'm a booklover and an enthusiast about gloomy and spooky things. I love gothic arts, and Ireland is one of the best countries in the world for that. I grew up next to the most haunted cemetery in Europe called the Père Lachaise; I was always listening to rock and grunge music while reading creepy stories as a teenager and I didn't change - it shaped my tastes and who I am today.
2) What are you currently working on/studying? And why did you choose these paths?
I'm currently studying a Journalism MA in NUIG. I previously studied Literature and Music. Music and books define who I am. When I was younger, I wanted to work in the music industry, and I chose to study music in a media school in London. After that, my love for books and my introverted personality guided me to study literature. Now that I'm 27, and a mother, I realise that I want to be fully myself and combine music and literature through journalism. Many things changed in my life over the past five years, and some special people helped me discover myself, accept who I am, and not be afraid to do what I want to even if I'm a quite shy and reserved person. 2020 was a year of change for me; I learned a lot about myself, and the lockdowns and current situation brought me a strength I never had before. I'm now hosting a radio show on Flirt FM, where I share my love of Indie music and talk about literature. It helped me considerably to speak and be comfortable with who I am. In 2020 I also started Dubh Publishing.
3) You founded Dubh publishing, a Galway-based publishing house that specialises in Gothic literature. Did you want to elaborate on why you decided to found it?
I founded Dubh Publishing in May 2020. In my opinion, Ireland has the best gothic stories. My favourites are Carmilla by Sheridan Le Fanu and Dracula by Bram Stoker. Those stories are treasures for me, as they represent everything I love. Spooky atmospheres, a touch of the supernatural and fascination for the afterlife, romantic and aesthetic ambiences and melancholy characters. And I wanted to bring these stories back to the front scene. I received many manuscripts, and I'm working on a publication in April with two brilliant writers.
4) What are your thoughts on the future of Irish publishing? For gothic literature or in general.
Irish literature is one of the best in the world; the poetry is beautiful. The gothic stories and ancient tales are the most mysterious. I noticed that feminism has an important place in Irish literature, especially nowadays. Many writers like Sally Rooney, Louise O'Neill and many more are talking about powerful subjects and fight for a better world. I also love the fact that there is no pretension in Irish literature in comparison to the French. And that strongly shows the quality of it.
5) How do you keep your creativity levels topped up during quarantine? What creative works (books, tv, music etc) give you strength, solace or meaning?
During quarantine, I tried to stay surrounded by the things I love the most. I discovered so many artists, Irish artists, especially. A friend of mine works in the music industry, and thanks to them, I always find new music. The Magazine Club, with their dark pop songs, Sive with her angelic voice, Lemoncello and their enchanting baroque folk style; but also Phoebe Bridgers and Boygenius made me feel better during the lockdowns. I also read a lot and loved The Midnight Library by Matt Haig, and it's the perfect book to read during a pandemic as it reminds us to remember who we are and love our lives and its simple things. During quarantine, I created a goth book club and to see that many people read my recommendations brought me the motivation to continue what I'm doing. For example, my mom, who lives in Paris, had not read for years - she started reading again with this gothic book club, and now she reads almost as much as me! I didn't watch TV a lot, but I like rewatching old classics and old Tim Burton movies. To focus on simple things helps considerably to make the time pass and to try and heal from this pandemic trauma that is affecting us all.
6) Any advice for aspiring authors?
I decided in December 2020 to start writing. And it's not an effortless endeavour! I don't think there are defined rules for aspiring writers. We are all different, and writing is a unique journey. I would say; write, write everything you have in your mind, make maps and plans of the work you want to achieve. If, like me, you prefer not to write until you have that specific element well ordered in your mind, then think about it every day. Take 10 to 30 minutes per day, more if you can, close your eyes, put on some relaxing music related to the genre you're writing to get inspired, and think or write. These tranquil moments help to develop our creativity. And I would say never be afraid to share your work to get different opinions.
Always remember: criticism is helpful, but if someone is putting you down, it is not criticism anymore, and in that case, the problem is not related to your work but to your relationship with that person.
7) What books/collections are you most looking forward to in 2021?
Firstly, I'm looking forward Dubh Publishing's first publication! It will be an old Irish tale revisited with a mix of goth and Tolkien vibes throughout. Very dark and Irish. I'm also looking forward to reading ''Of Women and Salt'' by Gabriela Garcia, which is about the relationship between difficult choices and past secrets in a family. I also can't wait to read ''Down Comes the Night: A Novel'' by Allison Saft, it looks magical - and we all need a bit of magic in this second year of Covid-life.
Contributed by
Sylvia Power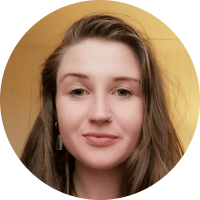 No comments
Leave a reply