ME to ME, in conversation
Hi Emily!
So to get started I thought we could get a bit of background on you first. Tell us everything, how you got into books, your undergrad, how you decided on the MA in Literature and Publishing, anything at all that you want to share.

---
Well, I have always been into reading – some of my favourite childhood memories would be getting new books for Christmas, or reading in the car on the way to wherever. Reading is obviously something that comforts me immensely even now, but is also a tool to navigate my thoughts and feelings, which is extremely important to me.
As for deciding to do the MALP, I had been living in America and was actually considering doing an MA in Sociology in Glasgow right up until the end of 2018; but I changed my mind when a friend of mine, Enid Conway, asked me to be a part of her art magazine, Bloomers. So, when I came back to Ireland, I applied and got in, and I'm so happy I did, because it made me finally realise that a career in literature and publishing is what I have always wanted.
What made you decide to be Managing Editor of ROPES?
Funnily enough, I was ready to let someone else in the class be ME of ROPES 2020 because I knew I already had some experience and was older than most people in the class, so I wanted to give someone else a chance. However, I was approached by some classmates and they convinced me to throw my name in to the ring, so I did!
Are you happy that you decided to be Managing Editor? Did you have any doubts in your decision along the way?
I am very happy, yes! It was somewhat daunting to navigate a large-ish group of people who I had just met, but everyone was so excited about making and selling a book, and once I make a decision I tend to look forward instead of back. I was inevitably curious about how the book would have turned out had another person been ME, but sure that's the nature of things.
What was the biggest challenge to you while making the journal? Do you have any regrets?
The biggest challenge was definitely being in a leadership position of a voluntary project. Our teams were excellent, and sales & marketing and production & design made it so there were barely any problems to do with the actual journal. It was more to do with finding the confidence to believe that I could do the job of ME, but that was honestly made a lot easier by the innovation and dedication of the aforementioned teams. I was very lucky! I have no regrets, honestly. It was just sad that we didn't get to have a launch or a graduation due to COVID. Instead of this, Mal and Chloe from our sales & marketing team put on a virtual event for Poetry Day where our poetry contributors read their piece from ROPES, which was an incredible thing to be a part of!
What was your favourite part about making the journal?
My favourite part of making the journal was probably proofreading and copywriting it, because I really like that kind of nitty-gritty work. I think we did a pretty good job of it in the end, too. I also loved just the feeling of working as a team to get the journal to look good in terms of the cover and book design. Our layout designer, Caroline, was truly passionate about what the book should look like in terms of the interior, and that was so inspiring and encouraging.
What personality best suits the position of Managing Editor do you think?
In my opinion, it should definitely be someone who is comfortable with constructive criticism as well as being able to handle juggling multiple roles and projects at once. As well as that, I think that they should be someone who can make a judgment call when push comes to shove, regardless of whether or not it will be popular, but for the good of the project. My only criticism of myself in this regard is that I am a people-pleaser when it comes to potential conflict, when ideally, the ME should be clear and firm in their mission statement for the publication, and be able to carry that out in the most fair and concise way possible.
If you could give me, or the next Managing Editor of ROPES one piece of advice what would it be?
Really lay out what you want for the journal to be and plan for it, ask people what they want to get out of the experience and try to accommodate that as best as you can, and don't worry too much as in the end, the ROPES team always pulls together and makes a wonderful publication!
So I'm guessing you want to be a part of the editorial area of publishing, is this true? Do you have any area in particular you'd like to work in if so? Any particular company?
Originally, yes, I wanted to be an editor – but after publishing ROPES and interning at various festivals, I am veering more towards a career in literature publicity and programme co-ordination. I prefer to be literally surrounded by people who are similarly passionate about literature, and to be involved with events where that can happen. Obviously this is something that may have to evolve with the current situation, but I am optimistic after having seen so much support for literature festivals around Ireland transitioning to an online format.
What are you doing now? Has Covid-19 put a spanner in your post- grad plans?
In terms of the literary sphere, I am currently still remotely sub-editing for Bloomers and interning for Cúirt Literature Festival in Galway. As well as those positions, I am a voluntary co-director at 126 Artist-Run Gallery, which is an amazing community-led space for art, and is also a great opportunity for me to learn more about arts programming and curation. COVID did somewhat affect my plans, but realistically I would have ended up in a similar position to this, just with more work outside of my house!
Where do you see yourself this time next year? And in five/ten years?
I have absolutely no clue! Even before the pandemic, things were constantly changing and I think, personally, I'm at a very transitional time in my life. My main goal is to have at the very least a freelance job in the literature and publishing industry, probably in Dublin, but I would also love to relocate for work as well – I suppose we'll see what happens in the next coming years.
Do you have any specific career goals you'd like to meet?
I would love to co-ordinate a literature festival programme one day to showcase the incredible writers that we have in this country and abroad – otherwise I'm just looking forward to seeing what comes up.
Who's your favourite author/What is your favourite book?

OR

What's a book that you think everyone should read?
This is a very difficult question! I'm going to cheat and not say just one. Books that I bring with me wherever I go are: The Days of Abandonment by Elena Ferrante, Jane Eyre by Charlotte Brontë, The Cider House Rules by John Irving, His Dark Materials by Philip Pullman, The Master and Margerita by Mikhail Bulgakov and Rebecca by Daphne du Maurier.
What is your favourite word?
My favourite word is "ornery" but I would also settle for "churlish" because apparently any synonym for grumpy is a great word.
Thanks so much for taking the time to answer all of my questions! Is there anything you'd like to say before we go?

Plug your socials if you want!
I am @EmilyOBrienLit on Twitter, and you can follow Bloomers @Bloomers.Art and 126 Gallery @_126gallery_ on Instagram!
No comments
Leave a reply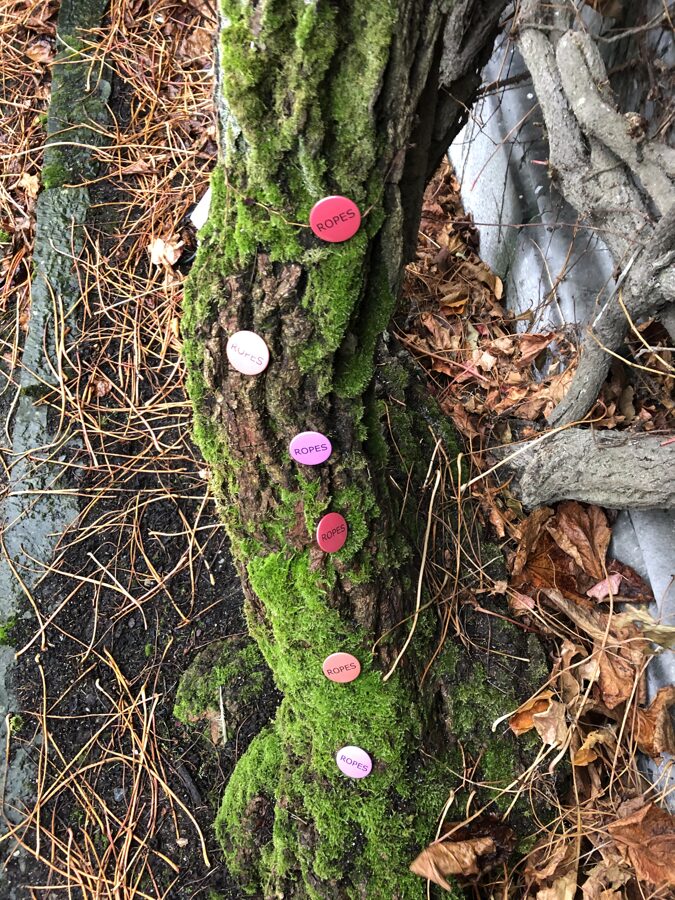 0